Implant-supported dentures offer far greater stability and function than traditional dentures. Dr. Joseph Murray can complete every stage of this treatment at our Atlanta, GA, office. Using his advanced imaging technology and clinical skill, he can perform precise implant surgery that provides lifelong benefits. Under Dr. Murray's care, you can expect to achieve a restored smile that not only looks natural and attractive, but also provides stability and functionality that is virtually equal to that of healthy, natural teeth.
Are Implant-Supported Dentures Right for You?
If you are missing most or all of your teeth and have ample bone tissue in your jaw, an implant-supported denture may be right for you. You may also be a candidate for this treatment if you are preparing for a full-mouth extraction. To qualify for traditional or All-on-4® dental implants, it is important that you have good oral and physical health. Gum disease must be treated prior to your procedure as subsequent gum recession may compromise your implants. Additionally, health conditions such as autoimmune diseases may disqualify you from oral surgery.
If you have experienced significant bone tissue recession following tooth loss, a bone graft or sinus lift can often restore this tissue, helping you to become a candidate for implants.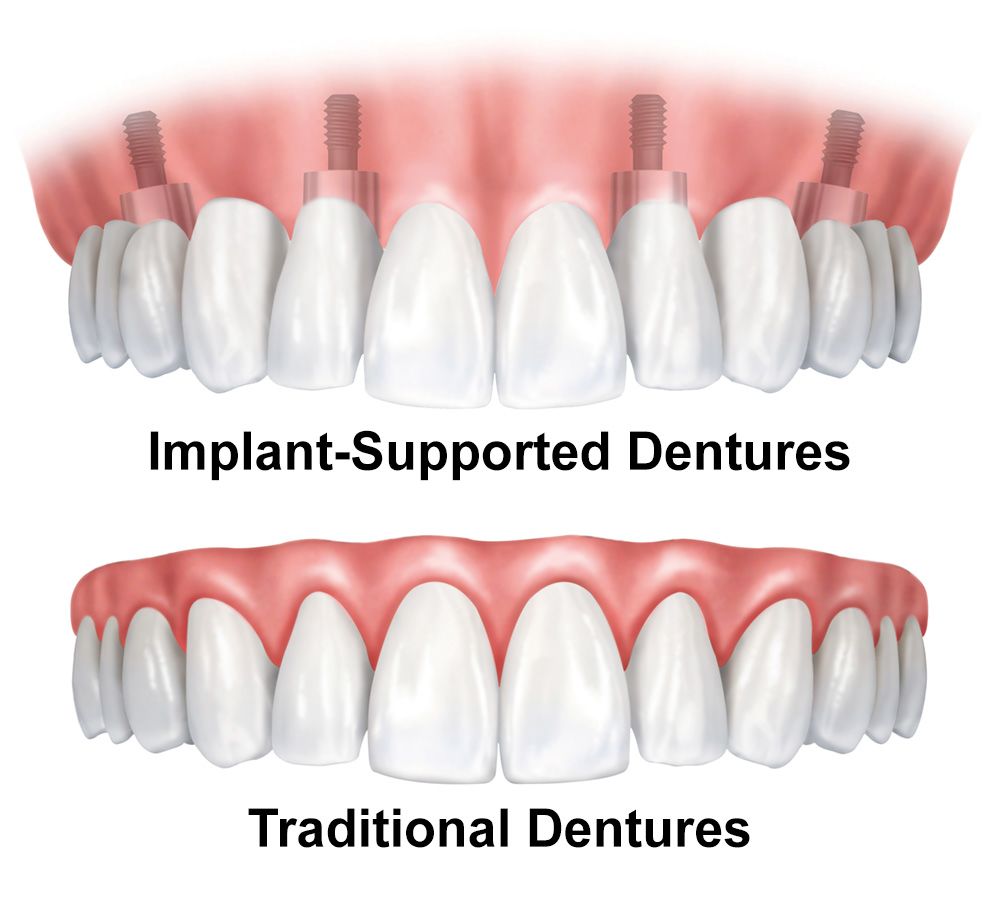 What Happens When You Receive Implant-Supported Dentures?
To provide an implant-supported denture, Dr. Murray must first perform carefully planned implant surgery. Our office is equipped with 3D imaging technology that allows him to gather detailed images of your jaw to pinpoint any recessed areas. He can also use these images to accurately determine the strongest areas of bone to support your implants.
During surgery, he will place the posts through incisions in your gums. You will receive sedation and anesthesia prior to treatment, so you should experience little to no discomfort. Over the course of three to six months, the titanium posts will integrate with your jaw to replace your tooth roots. Once they have fully fused, Dr. Murray can attach your custom-made denture.
Depending on the state of your jaw, you may qualify for All-on-4 implants. These implants can usually accommodate patients who have experienced moderate jawbone recession without the need for a bone graft. They can also support dentures immediately after surgery.
The Benefits of Implant-Supported Dentures
Implant-supported dentures offer a wealth of benefits:
Aesthetics: Your fixed prosthetic will have a life-like appearance. Unlike traditional dentures, these will rest firmly against your gums for natural-looking results.
Improved dental function: Your reinforced dentures will never slip or move out of place, allowing you to eat and speak normally. You can also eat any foods you choose.
Enhanced oral health: Because your dental implants will replace your tooth roots, they also protect your jawbone. The implanted posts will prevent the bone recession that occurs in the absence of tooth roots. This will in turn save you the hassle of having to constantly adjust your denture to fit a changing jaw.
A beneficial investment: Though your dentures may eventually need to be replaced, implants can last a lifetime with proper care. Your implants can also prevent oral health issues requiring costly treatment. Meanwhile, being able to eat, speak, and chew with confidence is priceless. We offer CareCredit® and in-house financing to make this treatment more affordable.
Convenient care: Dr. Murray can perform all stages of your treatment in our office, with no need for referrals.
Contact Us for More Information
Our entire team is dedicated to providing you with exceptional solutions for your missing teeth. To learn more about how you can achieve permanently restored dental function, contact our office online or by phone at (404) 762-5770.